On 18th of July former South African president
Nelson Mandela turned 95 years old
, below are some photos culled from
BBC
showing how his birthday was celebrated.
This newspaper vendor in the township of Soweto, where Mr Mandela once lived, holds up the day's paper bearing birthday wishes to the former leader.
Mr Mandela has been in hospital for more than a month with a recurring lung infection. These pupils at a Johannesburg primary school offered prayers for his health.
In St George's Cathedral, in Cape Town, people lit candles for Mr Mandela.
School children - including these teenagers at Phefeni High School, opposite Mr Mandela's former home in Soweto - began Mandela Day by singing Happy Birthday to the man regarded as the father of modern South Africa.
Well-wishers gathered outside the MediClinic Heart Hospital in Pretoria, where Mr Mandela has been undergoing treatment for more than a month.
At times, the outlook for Mr Mandela's health seemed bleak, but doctors say his condition has improved.Across the country his birthday is being marked by relief - many, like this school girl in Atteridgeville township, greeting him by his clan name, Madiba.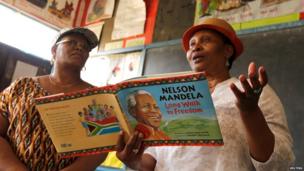 Mr Mandela's story resonates far beyond South Africa. These two women are reading from a children's version of his autobiography to a school in the Kenyan capital, Nairobi.
Riders preparing for the day's stage in the Tour de France gathered by a giant poster of Mr Mandela.
South Africans were encouraged to donate 67 minutes of their day to volunteer work, to mark Mr Mandela's 67 years of public service. Four of Mr Mandela's grandchildren set an example, working on a garden outside Pretoria.
South African President Jacob Zuma went to the hospital in Pretoria to mark his predecessor's 95th birthday.
Mr Mandela is the first recipient of a digital ID card in South Africa, as the government begins rolling out a new system.
Mr Mandela's image was displayed on a billboard in New York's Times Square, along with a birthday greeting.